GDG Gandhinagar is oldest GDG community in Gujarat region. This year GDG Gandhinagar hosted it's yearly tech conference DevFest on 13th October 2019
I am Yatendrasinh Joddha, being an Organizer of GDG Gandhinagar will walk you through the conference with this highlight article in my view.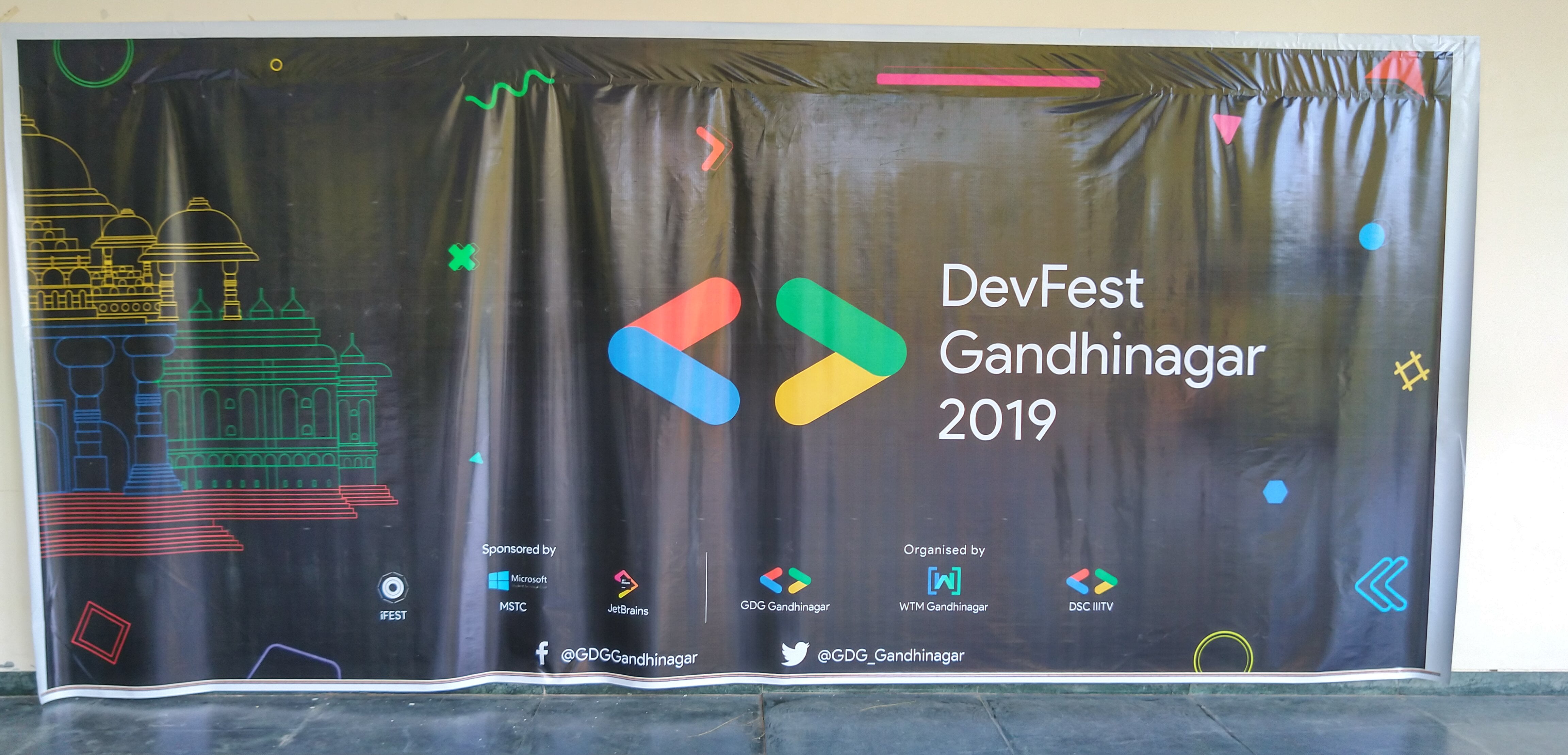 Registrations and Breakfast
We started registration around 8 AM in the morning and the first member who registered was from the capital of the India. It was proud moment for all the organizers to have first participant of DevFest so we didn't missed a chance to take a selfie with him 🙂
After having tasty breakfast and the registration process, I didn't missed a chance to address the attendees. I motivated and guided them for the day and tried to boost their mood 😉
Sessions
There were two tracks in the DevFest, Web/Cloud and Mobile. Attendees were allowed to attend any of the session from any of the track. But before that we organizers (Me, Parth, Bhavesh, Arif) and googler Siddhant Agarwal took Key notes of the conference. We organizers talked about the growth, achievements and the future goals of the GDG Gandhinagar.
We followed below schedule whole day except Himadri swapped her talk with mine in Web Track, so I took mine right after the lunch break.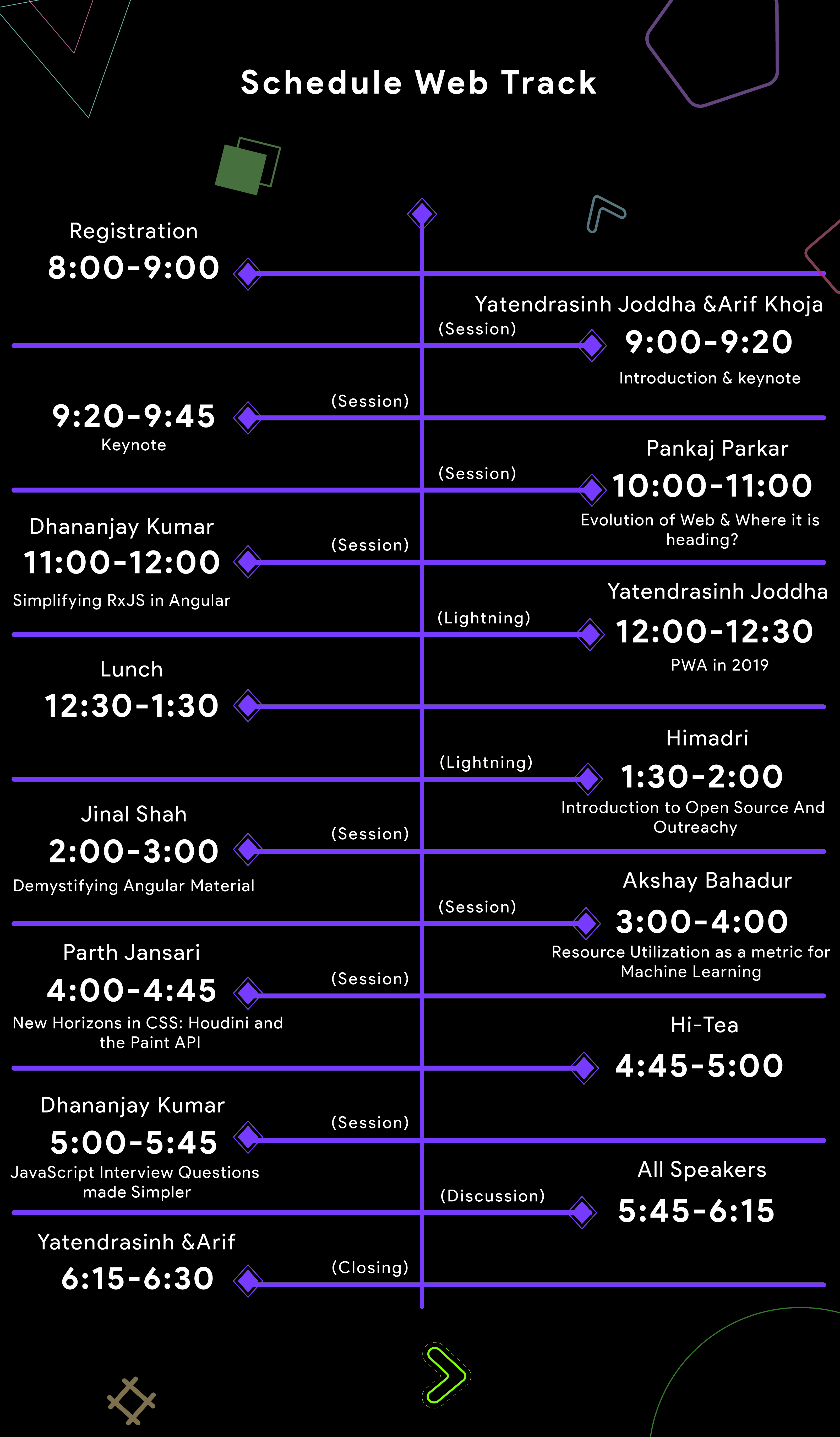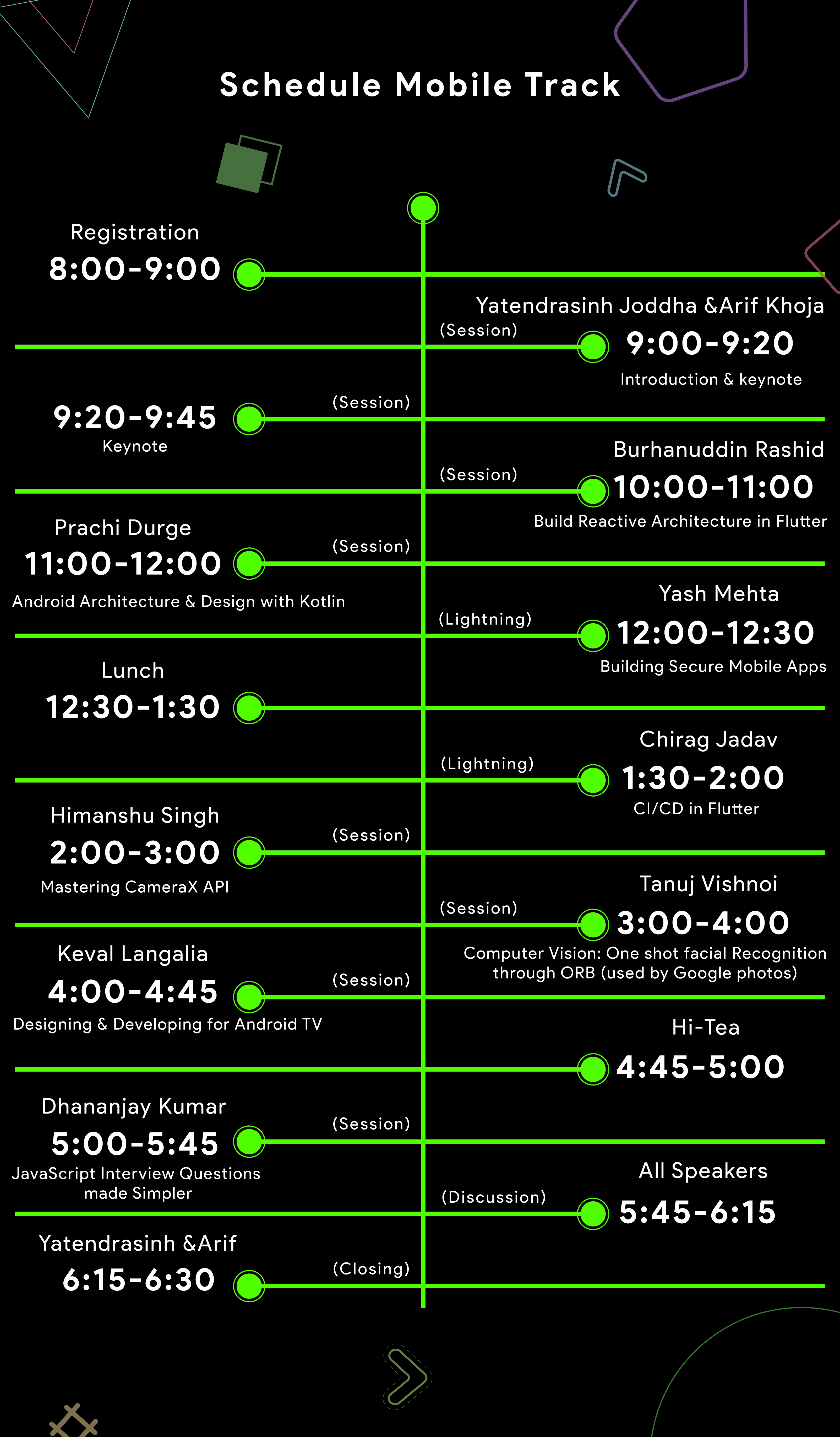 All the sessions in both tracks were running on time, that was the best part of the day. This helps attendees to switch between tracks and gave them a chance to hear and get knowledge from the speaker of their choice.
Finally at 12:30 PM, we declared a much awaited lunch break in which we served delicious food. I saw everyone was enjoying the food. Being a gujju community, our speakers were expecting some Dhokla, Fafda stuff. But we served them a Gulab Jammun 😀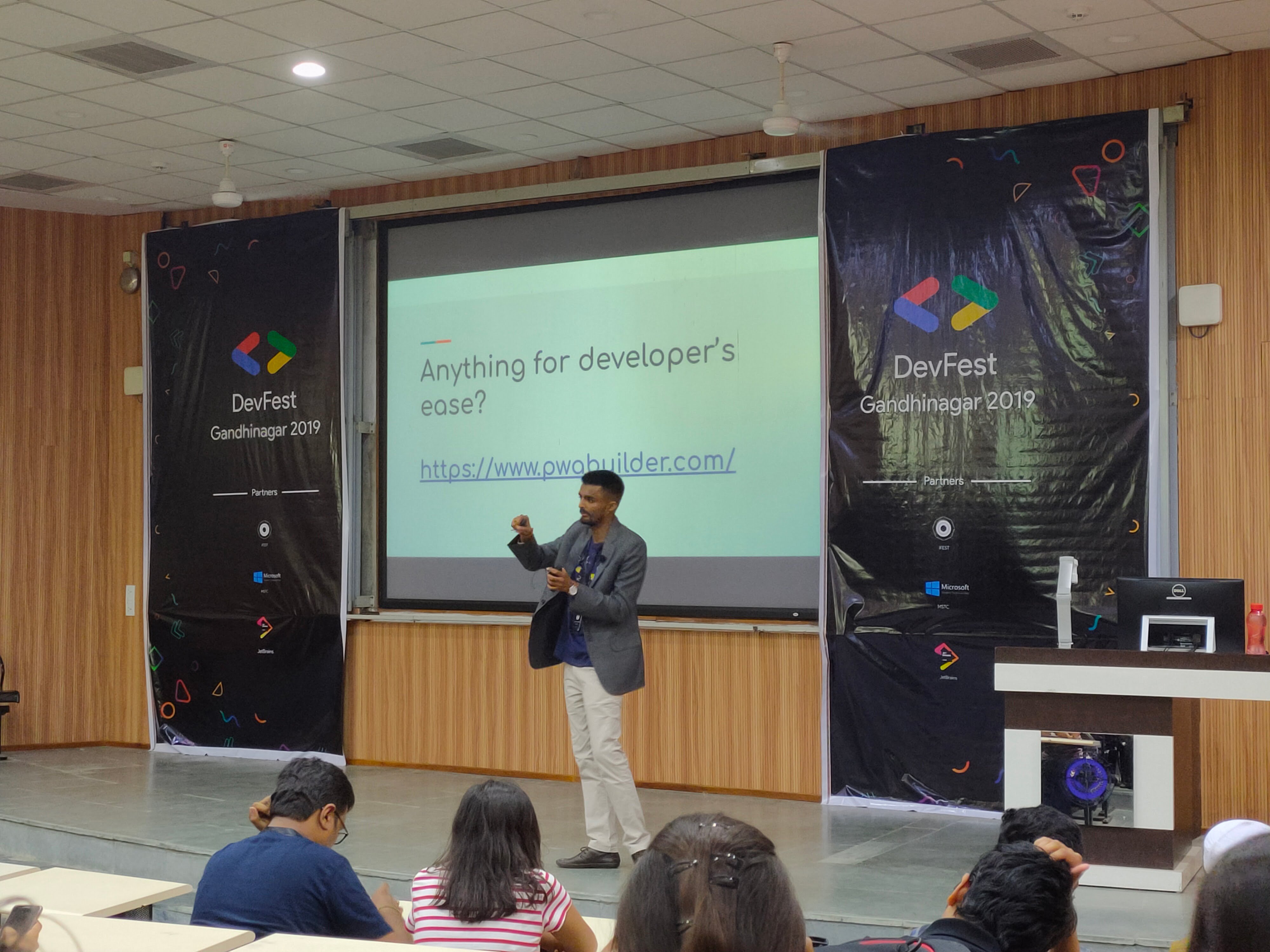 After a lunch break, in a Web Track it was my turn to share knowledge on PWA. In my session I talked about the latest updates on PWA. What can we expect next in PWA and some helpful tips for the developers to develop PWA. I talked on this around 20 mins with title "PWA in 2019". You can expect detailed article soon on the same topic.
Getting Bored? 😀
In a full day conference it is very difficult to sit at one place and listen to the speakers, also it is very important to keep attendees energetic. This difficult task was mine, and I tried famous Indian Football Team celebration with all the attendees. You can also expect video on YouTube of this 😛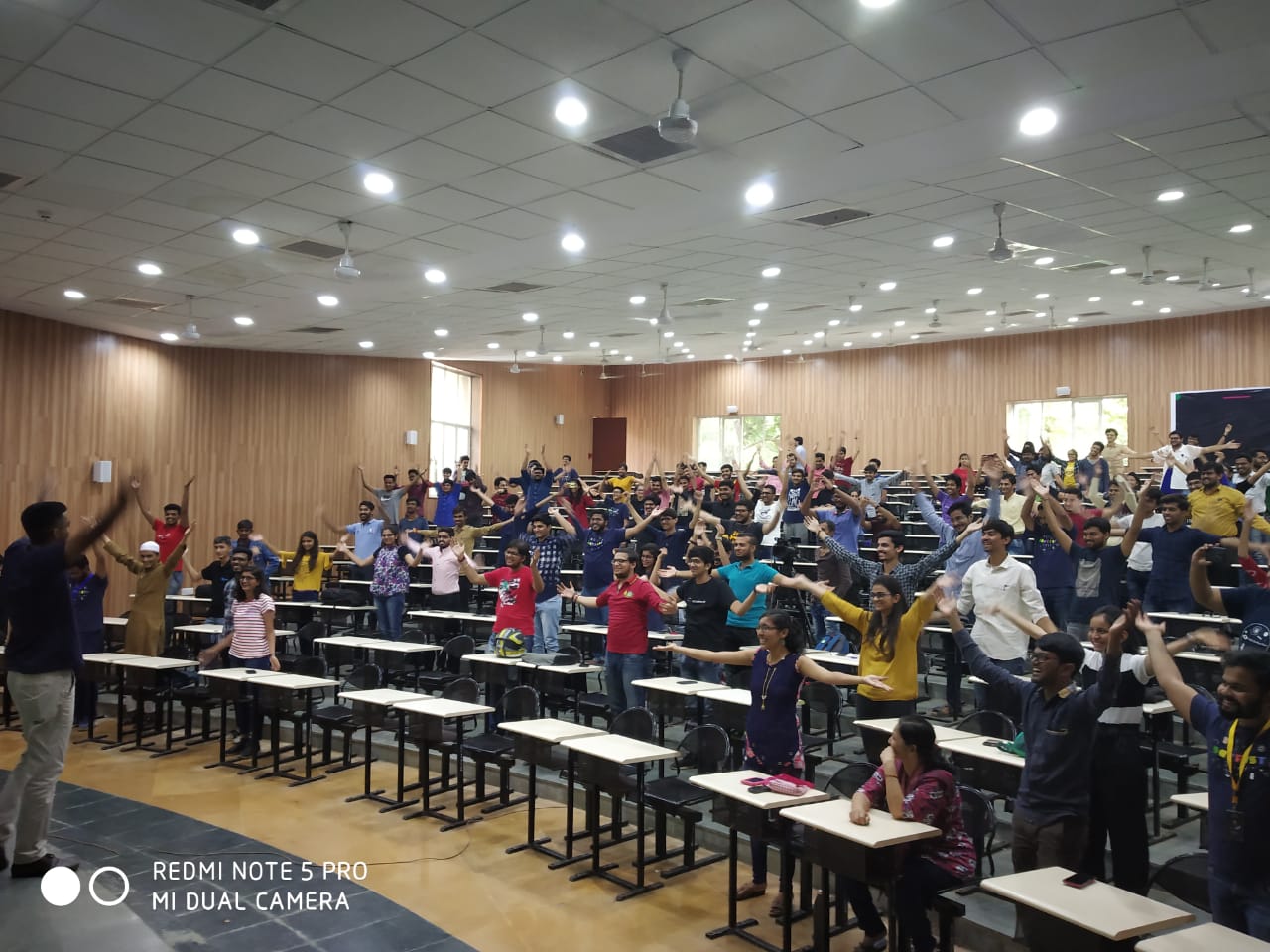 In this DevFest19 we tried couple of new things
1. Panel Discussion: In this we merged speakers and attendees of both the tracks, and allowed attendees to ask any question to any of the speakers standing on the stage. The response was overwhelming and there were so many questions and so many great answers of those questions.
2. Ask The Expert Zone: I this we had a expert panel sitting in a common area, were anyone can go and ask them about ML, Data Science, and Google Cloud. The response to this initiative was very nice and all the attendees liked it very much.
Find some glimpse from Panel discussion below 😀
So finally it was a time to say thank you and facilitate our speakers with momento 🙂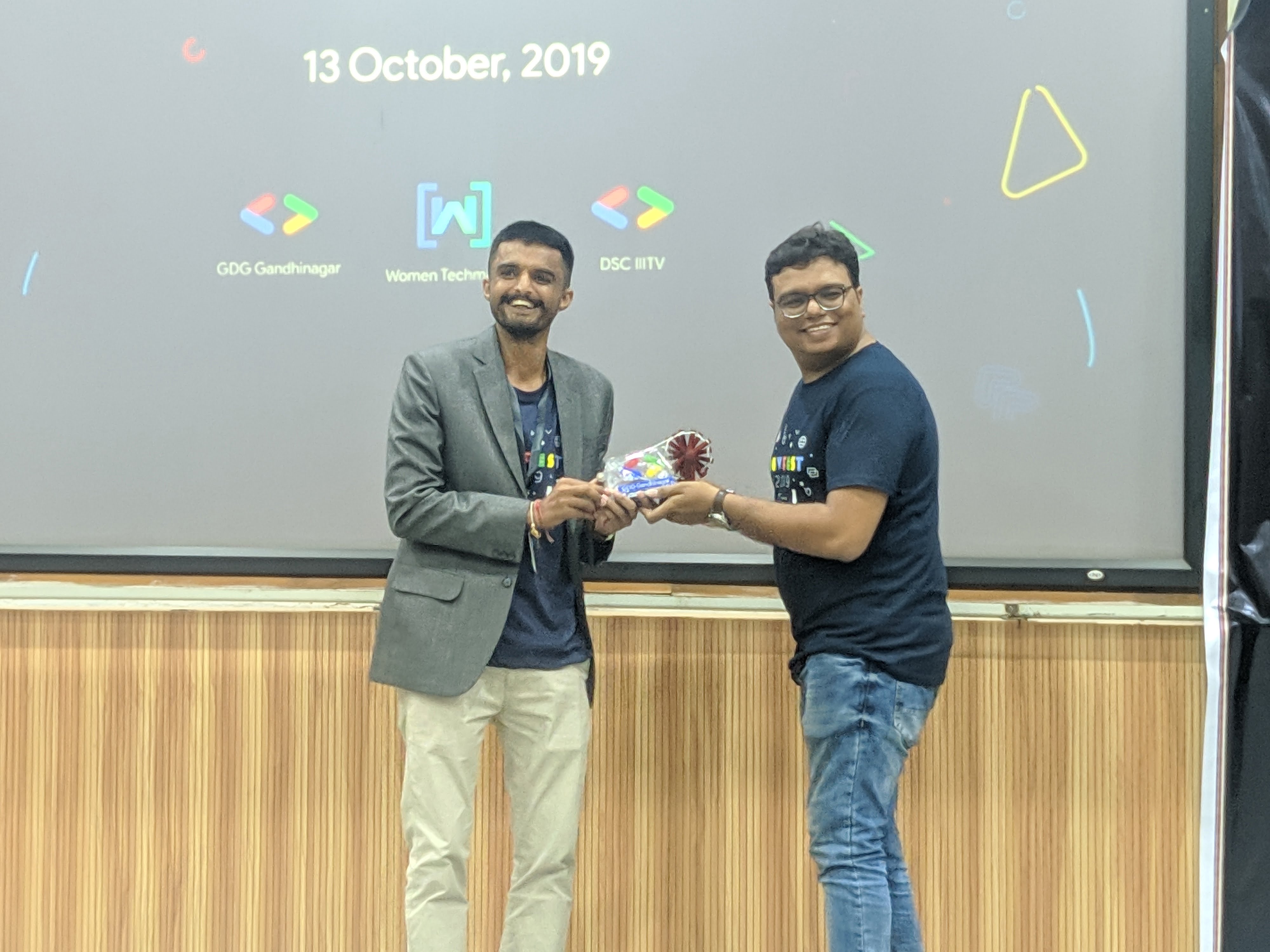 It was a great Technical Day 😀
Speaker's List
Web Track: Pankaj Parkar, Dhanajay Kumar, Yatendrasinh Joddha, Himadri Pandya, Jinal Shah, Akshay Bahadur, Parth Jansari
Mobile Track: Burhanuddin Rashid, Prachi Durge, Yash Mehta, Chirag Jadav, Himanshu Singh, Tanuj Vishnoi, Keval Langalia
Ask The Experts Zone: Amar Gondaliya, Jigar Navadiya, Vignesh Prajapati
Organizers: Yatendrasinh Joddha, Parth Jansari, Arif Khoja, Bhavesh Valand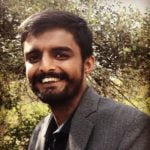 I have healthy knowledge and experience in Azure, O365 and ASP.Net with c#, MVC, WebApi along with client-side frameworks and libraries like JavaScript, JQuery, KnockoutJs, AngularJs, Angular, ReactJs, NodeJs